For better grooming, your dog needs daily walks. Again, if you want to make your furry friend a companion in your adventure, then your dog needs security too. It has happened with most of us, that while walking dog suddenly starts to pull on the leash with full of his strength. It can be a real drag.
In this case, you need something that is lightweight, easy to put and prevents the pull of dogs. I am talking about the two best anti-pull harnesses – "Ruffwear vs Kurgo" harness. Whatever the problems are, you and your dog deserve adventures on regular basis. Keeping that in mind I am here to provide you some idea about these two harnesses. This article will let you choose which of these two harnesses is more convenient for your dog.
Ruffwear harness is the perfect choice for every day all day harness. This is an excellent harness that is easy to put on. It offers a snug fit for all dogs of shapes and sizes. It comes with two leash attachment points: one of them is an Aluminum V-ring centered on the back for everyday normal walks and another is a reinforced webbing loop in the front with extra control of leash pullers which is going to prevent your dog from pulling.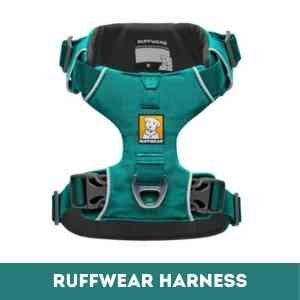 So if you have a dog who likes to pull on the leash during a walk then ruffwear harness might be a good harness for your dog. It features four easily adjustable straps, reflective trim, an ID pocket and a light loop. It inspires dog's exploration for outdoor adventures.
What are the key features of Ruffwear harness?
Keeping in mind the highest convenience of you and your dog Ruffwear is designed in the best way. Its highly adjustable design provides a custom snug fit and padded chest and belly panels to keep the dog much comfortable.
The key features are :
Foam padded construction for comfort: Foam-padded chest and belly panels ensure equal load distribution and comfort when running and walking.
Four points of adjustments: It has four convenient points of adjustment for optimal fit. 4 different adjustment points allow a good range of motions.
Two leash attachment points: Aluminum V-ring centered on the back for normal walking and reinforced webbing loop gives additional control of pulling.
ID pocket: It stores safe storage of dog's tag.
Reflective trim and light loop: It is made of bright, easily visible fabric with reflective trim that helps in low light conditions for visibility. Light loops offer visibility at night.
Made for extended wear: It is designed for easy on and off. It is lightweight and durable.
How easy to put ruffwear harness on your dog?
Lots of harnesses have tons of straps and that could be a little confusing that how to put it on your dog. Especially when you have an energetic dog. It just can become a nightmare to get it correctly on your dog. Ruffwear makes it way more simple. It has a very straightforward way to put it on your dog.
Slide your dog's head to the hole making sure that the ruffwear logo is basing upwards on your dog's back.
Then clip the two buckles on the side.
Make sure you have adjusted tightly enough so that your dog cannot slip out of the harness, and also it has to be loose enough so that it is comfortable for your dog.
And that's how your dog is ready for a walk.
Are Ruffwear harnesses good?
Ruffwear harness is a great piece of gear for dogs. It is an everyday harness for any dog. The reinforced webbing loop in the front prevents your dog from pulling when it pulls on the leash. The harness will actually start to pull your dog backward towards you and that makes really awkward for the dog that it stops pulling. Ruffwear has virtually put an end to dogs pulling. It is very easy for me to pull my dog away from distractions while walking.
It is great for holding dogs back. This harness is designed with the dog in mind first and foremost as it is not cut too high around the dog's front legs, eliminates the chaffing problem that I have had with other harnesses. It is easy to put on and foam padded straps across the chest and belly give comfort to the dog. My dog seems very comfortable wearing it. He gets excited when he sees his harness coming out. Our walks have become much more pleasurable and enjoyable for both of us.
I have seen many other dog breeders besides me have a positive attitude towards ruffwear harnesses. On the flip of the coin, many of the dog breeders also objectified it.
The kurgo harness is the ideal starter everyday harness for your dog. It is designed to keep your dog comfortable on your daily walk or run. Its buckles and straps are long-lasting. It has a dual leash attachment point for greater versatility. Five different adjustment options allow you to get more custom fit for your dog.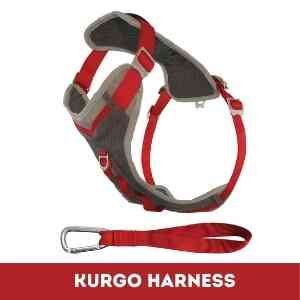 The quick-release buckles allow you to easily take the harness off and on. The D-ring prevents the pulling of your puller dog. This harness is available in a wide range of sizes. It also includes a car seat belt tether to secure your dog while you are driving. All over it is a cool harness for your dog.
What are the key features of Kurgo harness?
The kurgo harness is designed with the dog and its owner's needs in mind. You are going to love its features giving comfortness and usefulness.
The key features are:
Five adjustment points: It has 5 easy adjustable points to fit all ranges of dog body types.
Duel leash attachment: It has a D-ring leash attachment in front of train dogs not to pull. Also, it has another leash ring on back for regular walking.
Quick release buckle: It has a plastic-made quick release buckle to make it easy to take on and off for everyday use.
Seat belt tether for car restraint: This harness comes with a seat belt to restrain your dog in the car to prevent them from distracting you while driving.
Size and fits: It is available in a variety of sizes according to your dog's fitness.
Committed to quality: It comes with a great warranty. Kurgo harness is crash tested.
How easy to put kurgo harness on your dog?
I have been asked many times how to put kurgo harness on a dog. You may find it tricky. But don't worry. I will explain step by step in detail how to adjust this harness on your dog.
To fit the harness begin by releasing the buckles and loosen the straps to easily fit over your dog.
Next pull the harness over your dog passing its head through the neck strap. Make sure the back pad lines up with its back and the chest pad is centered on its chest.
One at a time pull your dog's front legs through the loops formed by the strains and chest straps.
Fasten the nesting buckles by taking a piece of a buckle on each hand. Take the buckle piece with kurgo logo. Put it underneath and slide it through the open part of the buckle.
Adjust the straps to fit the harness on your dog. Tighten the straps by pulling them towards the center of the harness. It needs to be snugged but comfortable.
For some harnesses you may have excess webbing. This can be secured with a bungee clip on the back of the harness.
Now your dog is ready to go.
Is kurgo a good dog harness? How much useful it is?
If you need something that is no pulling harness, comfortable and cool for your dog then kurgo harnesses can be the best choice for your dog. It has a vest shape that won't compress your dog's neck. When I tug on the leash to get my dog's attention away from distractions it doesn't hurt my dog's neck.
A centrally located D-ring leash attachment in the front helps prevent a dog from pulling. It allows me great control over my dog while walking. This harness is made of tough and durable materials, pads, webbing that it won't easily tear against a dog's nails or chewing. The 5 different adjustment points prevent the harness from slipping your dog by giving optimal fitness. The plastic quick-release buckles allow easy take on and off when on the go.
When you get into your car you put your seat belt on. If you are driving with your dog it is important to buckle your dog into your seat belt too. Kurgo features a seat belt tether like the direct to seat belt tether and Swivel seat belt tether. By using it you will know how to travel with a dog and keep them comfortable. Kurgo is definitely useful for you and your dog.
Key differences: Ruffwear vs Kurgo harness
| Ruffwear Harness | Kurgo Harness |
| --- | --- |
| 1. It has four points of adjustments. | 1. It has five points of adjustment. |
| 2. There is no buckle for a quick release like Kurgo. | 2. It has quick-release buckles for easily put on and off. |
| 3. This harness is comfortable for any dog, no matter its size and shape. | 3. It comes in four sizes – extra small, small, large, extra-large. It fits according to chest measurements and weight. |
| 4. It is very easy to put a ruffwear harness on a dog. | 4. There are more steps to follow than ruffwear to put it on the dog. But once you fit the harness on your dog, you don't need to fit the harness again. |
| 5. Ruffwear harness is only used for walking, running, jogging. It has no seat belt webbing. | 5. It has an extra seated belt tether for a car traveling beside walking. |
| Check Price | Check Price |
Bottomline
Overall many consumers are pretty satisfied with Kurgo harness. The effectiveness of using this harness for dogs is a big selling point. Also, the additional seat belt tether allows you to transport your dog. I personally give it a rating of four stars out of five stars. Its solid construction and the extra features are worth paying.
But at the end of the day, you know your dog's capabilities when it comes to chewing and destroying things. You know the strength your dog possesses when it comes to pulling the leash. So you are the one who can choose the best for your dog. I just gave you the idea of the two best harnesses so that you and your furry friend can have full fun with your adventures.