Introduction
Dogs need to get outdoor exercise. Regular outdoors will keep your dog happy, healthy and less destructive around the home. Walking your dog is good but it is great to have the alternative of biking your dog when walking for hours after a busy day is not top of your willing list. Biking your dog saves more time than walking. Besides walking with agile dogs sometimes is an absolute nightmare. Biking is fun for the dog as well as for the owner.
A Bike leash is a great option for biking along with your dog. A dog bike leash is used for joining your bicycle with your dog so that your dog can run with you while biking. As a bike leash buyer, you may have difficulties in choosing and inquiries about many of the leashes. Walky dog and Springer are the bike leashes about which we are going to erase your dilemma in selecting between them in the most provable way.
The walky dog provides you to ride your bike while your dog will also run by next to you. It is crafted from high carbon stainless steel which is UV and rot resistant. It is so strong that the paracord used can stand 550 pounds before breaking. The length of the leash is adjustable.
You can add more inches to the leash by taking out springs inside the steel wand that will allow extra leash length. The internal shock absorber is designed to withstand the shock from a sudden pulling from dog and puts your bike in control. Its quicker lock feature allows the unit to be easily switched between bikes.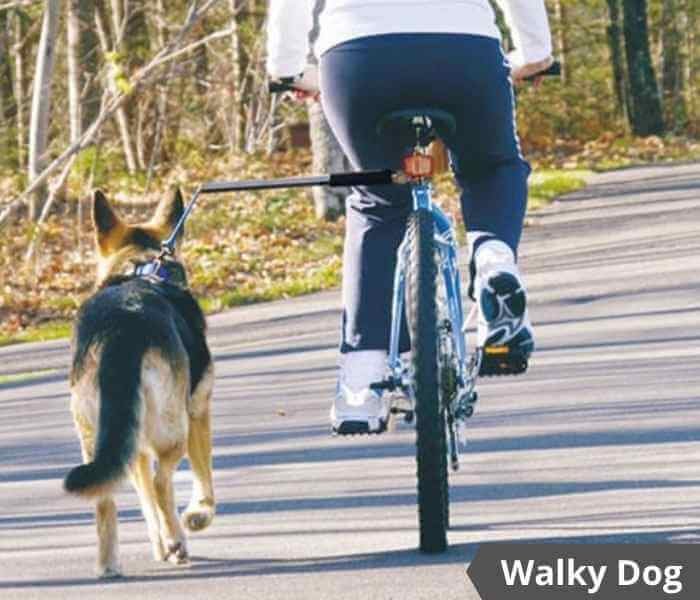 How to attach a walky dog with a bike?
The walky dog has a separate jaw clamp that attaches onto the seat post of the bike. The jaw clamp will fit any standard seat post that is 31/4″ – 4″ inches in circumstances. With its quick release mechanism, walky dog leash can be quickly attached and detached from the jaw clamp. NB: Make sure your bicycle seat post is securely tightened to prevent movement.
What if your dog abruptly changes movement?
There is a patented internal spring system in the walky dog that is similar to suspension in a car. The spring reduces pulls and tugs of dog and gets your dog back in line. Cautiousness must be needed because you will still feel the pull of very powerful breeds.
How many dogs you can bike with walky dog?
There is no extra facilities to use walky dog more than one. You can use two walky dog mounted on top of the other under seat at your own risk. Our suggestion is to obviously use more cautious and think twice before doing it and make sure the dogs are of similar size and ability. Situation where one dog is pushing the other dog beyond its limits, won't be friendly.
Promoting more health services for you and your dog the springer keeps your dog at a safe distance from your bike while biking. Springer is upgraded than other bike leashes. It is constructed of heavy-duty steel which is manufactured and assembled in Norway. Over 600,000 dog-loving bicyclists use springer.
Springer's low mounted, heavy duty spring absorbs up to 90% of the force of your dog's unexpected pulls, making it so much easier to maintain balance. A special patented 'safety release' will instantly free your dog when post, tree, or hydrant come between Your dog and bicycle, without any discomfort to either of you. A sturdy 18″ rope is knotted through the appropriate hole depending on dog's strength. Springer may be removed in 2 seconds by simply releasing the pin.
Can you ride two dogs with springer?
The springer enables dog lovers to ride with multiple dogs on both sides of their bikes. The springer extra arm kit has everything you need to bike with dogs on both sides.
Why 'SPRINGER' as a bike leash?
It seems thrilling to bike dog by springer as it presents the best way to give an overly energetic dog an exercise that it needs. The mechanism of the springer allows you to control the bicycle with both hands while still providing a safe way for the dog to run alongside you. The clamp fits most regular touring, mountain bikes and can be used on either side of your bike.
Walky Dog Vs Springer: key differences
| Walky Dog | Springer |
| --- | --- |
| 1. For strong, large, agile, active and mostly distracted dogs, you need to be more cautious and your dog needs more training while using it. | 1. The large springer takes up to 90% of the force of any dog without causing any excessive movement in bike. |
| 2. There is no safety release. | 2. Its patented safety release can free the dog instantly that protects both you and your dog from injury. |
| 3. Has no extra facilities for riding more than one dog. | 3. Has the option to exercise two dogs simultaneously with springer extra arm kit. |
| 4. You can instantly take your dog from riding to a walk by taking the bar off the bike and use it as a hand leash. | 4. It is kind of hefty to use as a hand leash. |
| 5. This bike leash has less length, keeps your dog close to the bike while riding it can knock your balance off. | 5. The springer is a combination of a rigid arm that keeps the dog away from the bike and helps you to keep your balance. |
| 6. The jaw clamp will fit any standard seat post that is 31/4″- 4″ inches | 6. The clamp fits most regular touring, mountain bike. But it doesn't fit all bicycles without an adapter. |
| Check Price | Check Price |
Final Thought
Walky dog is well constructed in general and more elegant to look at. But when it comes down to the key point "Functioning" Springer definitely owns the score. As we have reviewed so far, we can come to the conclusion that Springer is the best bike leash between the two of them. It is innovative and upgraded with lots of useful features and one worth considering for buying.